DJ HELL
Born Altenmarkt, 1962.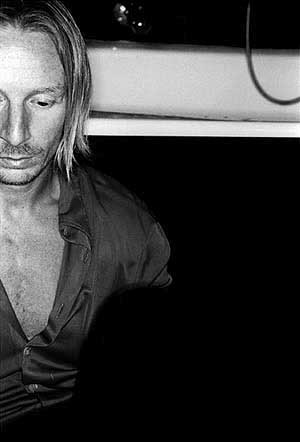 Growing up in the rural Bavarian district of Chiemgau, Helmut Geier (Hell to his friends) used to sneak night-time listen to the radio under his bedclothes. By the time he was old enough to travel into Munich's record shops with his brother he had already developed an all-consuming passion for music. And then punk rock happened.
In the summer of 1977, Hell bought his first punk record - The Damned's DAMNED, DAMNED, DAMNED (1976) - and found himself immediately hooked on the music's febrile energy and raw, instinctive power. By 1978, Hell found himself playing records in a local nightclub. "It was a club for hippies," he later recalled. "They really hated us." But Hell's night became a popular draw and he graduated to the club's weekend slot.
In his early 20s, Hell moved to Munich to take up a job with a computer company. By this time his soundtrack had altered to include rap (he was an avid collector of Red Alert and Chuck Chillout tapes), rare groove and electro.
Access to Munich's import stores eventually led him to house and techno, though the prevailing influence on his sets at venues such as the Tanzlokal Grössenwahn was predominantly a UK version of acid house.
Hell's reputation began to spread thanks to incendiary sets which revealed not only an encyclopaedic knowledge of music but an inspired flair for programming on the fly. Nothing was ever preplanned, Hell custom-built each set in response to the reaction of the crowd, tapping in to their mood with almost telepathic accuracy.
In 1992, he was invited to play at Berlin's Love Parade. He concluded his set with a single-sided white label. The track was called "My Definition of House"; a stunning combination of heavy-funk percussion and wildcat orchestration. Without a record deal or distribution, he'd pressed up the track himself. Based around a cello sample borrowed from a David Byrne and Brian Eno theatre production, the track was good enough for R&S boss Renaat Vandepapeliere, to offer him a record deal on the spot. Though more records followed - like the stuttering distortion workout of "Three Degrees Kelvin" on Magnetic North - Hell didn't maintain a lengthy relationship with R&S. Instead, the association which has dominated most of his recording career dated back to his days on the punk scene. Disko Bombs was a label set-up initially as a dance counterpart to the punk label run by Optimal Records in Munich: the shop where Hell had bought many of his punk singles in the late '70s. And, just as Helmut had shortened his name to Hell, Disko Bombs quickly became just Disko B.
With Disko B, Hell began to explore a dark, almost gothic strain of techno. Tracks like "Motherfunk" were brooding affairs that borrowed the hard, minimal feel of Jeff Mills or Robert Hood and invested it with a sense of baleful, barely restrained violence. On "Totmacher" (lit. "Dead Maker") he blended film noire soundtracking with deep, punishing grooves.
Recorded with Mijk Van Dyk in Berlin and Disko B label-mate Richard Bartz, Hell's debut album GETEERT & GEFEDERT (1994) was suitably intense, throwing tough Detroit grooves and hard-ball dynamics across tracks like "I Feel Love" and "My Life Is Hell".
A contribution to the X-Mix series, WILDSTYLE (1995), provided international audiences with a taste of Hell's skill as a DJ. Combining tracks by Random Noise Generation, Surgeon and Bobby Konders with an impressive mix of old and new classics it remains a key release for anyone who's interested in the reasons behind Hell's reputation as Germany's premier DJ during the mid-'90s.
During this period Hell began devoting himself to his own International Deejay Gigolos label.
Though the label has continued to focus on a playful, deliciously retro style of electro, thanks to the input of Australian/American art students Chicks On Speed - Gina X Performance, Hell's second album MUNICH MACHINE (1998) was a broader, more accessible outing than its predecessor.
As the name suggested (MUNICH MACHINE was originally the title of one of Giorgio Moroder's mid-'70s projects) the album saw Hell plundering computer disco with tracks such as "For Your Love" and "Berimbau" being little more than thinly-disguised pastiches of classic Moroder/Donna Summer workouts. However, the album also contained credited cover versions including an intriguing version of The Normal's "Warm Leatherette" (also covered by Grace Jones) and an electronic reworking of "Suicide Commando" by obscure Hanover guitar band No More, a single which Hell had played non-stop during his early career as a punk DJ and which, symbolically at least, brought Helmut Geier's musical trip full circle.